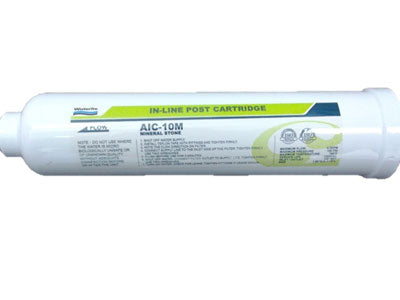 Waterite Mineral Filter - AIC-10M
Save

0

%
Save %
Original price
$40.00
-
Original price
$40.00
Increasing Minerals
Re-mineralization is a process in which the water after passing through the RO membrane is stabilized with addition of minerals accomplished by use of lime or limestone media filter.
This cartridge balances the pH and puts essential minerals back into your water that your body can use, as well as give you the refreshing taste of sweet spring water. 
The mineral composition of limestone is highly variable depending upon the quarry location.
Maximum Flow: 0.5 GPM (2. L/min.)

Maximum Pressure: 100 PSI (7 bars)

Maximum Temperature: 100°F. (38°C.)

Service Life: 1500 gallons (5678 L) (varies with incoming water conditions)

Connections: 1/4″ FNPT (female normal pipe threads) on both ends
 2"x10" cartridge
Change yearly
Fittings not included
Cartridge may not be exactly as shown
Re-mineralization is a process in which the water after passing through the reverse osmosis membrane is stabilized with the addition of minerals accomplished by use of our limestone media filter. The mineral composition of limestone is highly variable depending upon the source. The Mineral Stone In-line Cartridge  contains the following:
SiO2 (Silicon Dioxide) 60-65%
Al2O3 (Aluminum Oxide) 12-17.5%
Fe2O3 (Ferric Oxide) 4.2-4.8% FeO (Ferrous Oxide) 0-1.3%
CaO (Calcium Oxide) 3.8-6.1%
MgO (Magnesium Oxide) 3.2-4.3%
Na2O (Sodium Oxide) 4.1-4.4%
K2O (Potassium Oxide) 0.2-1.3%
MnO (Manganese(II) Oxide) 0.07-0.08%
TiO (Titanium(II) Oxide) 0.21-0.49%
P2O5 (Phosphorus Pentoxide) 0.06-0.18%
May not be exactly as shown