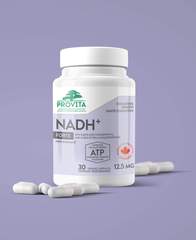 Provita - NADH+ with C0Q and Chlorophyll
Save

0

%
Save %
Original price
$35.00
-
Original price
$35.00
Helps to increase energy production (ATP) at the cellular level. Helps support cognitive health.
Benefits
Helps to increase energy production (ATP)
Helps support mental clarity and alertness
Helps improve memory and focus
May help with fatigue and senility
NADH+ is a synergistic blend high potency Nicotinamide Adenine Dinucleotide (NADH, also known as Coenzyme 1), Coenzyme Q10 and Clorophyll.
NADH is a naturally occurring coenzyme found in all living cells which is necessary for cellular development and energy production.
NADH increases energy production (ATP) at cellular level including the brain, increasing mental clarity, alertness and improving memory and focus. It may also improve symptoms associated with lack of energy, fatigue, senility.
Medicinal Ingredients
Each Vegetarian Capsule Contains:
NADH12.5 mg
(Nicotinamide Adenine Dinucleotide)  
Coenzyme Q1030 mg
(natural ubiquinone)  
Chlorophyll5 mg
(Sodium Copper Chlorophyllin) 
Who can benefit?
There is now enough evidence to support that lack of energy at cellular level is an issue in certain disorders such as mental fatigue, memory loss, cognition etc.
Recommended dose
Adults take 1 capsule per day (preferably in the morning).
Cautions:
Consult your health care practitioner prior to use if you are pregnant or breastfeeding or if you are taking blood pressure medication. If cramps or diarrhea occurs, reduce the dosage. If symptoms persist consult a health care practitioner.
Do not use if seal is broken.
Keep out of reach of children.
Keep sealed, store in a cool, dry place at 15–25ºC.