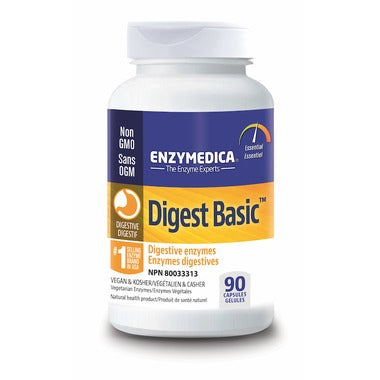 Enzymedica - Digest Gold
Save up to

0

%
Save %
Original price
$20.00
-
Original price
$58.00
Digest Gold represents the most effective enzyme formula on the market, with enzymes for protein, fat, carbohydrate and fiber digestion.* Formulated with synergistic ingredients to promote optimal digestion, one capsule of Digest Gold per meal is typically sufficient to address common digestive complaints.*
Featuring Enzymedica's Thera-blend™ technology, the enzymes in Digest Gold are effective throughout the entire digestive system, ensuring complete digestion.* In laboratory tests evaluating digestive efficiency and time, Enzymedica's Thera-blend proved 3X stronger and 6X faster than competing products, providing speedy support for digestive discomfort.**
ATPro™ Technology
America's best-selling digestive enzyme formula is now supercharged with ATPro™ technology, Enzymedica's exclusive blend of critical nutrients that provide ATP and enhance ATP production. A proprietary combination of ATP, CoQ10, Magnesium Citrate and Alpha Lipoic Acid, promotes nutrient absorption, improves HCl availability and decreases the energy demand of digestive processes.* Enzymedica's Digest Gold now contains 300,000,000 LCUs of ATP per capsule.
ATP (Adenosine Triphosphate) is the body's energy currency.  Produced by cells of all living organisms, ATP acts as a battery, supplying cells with the energy needed for the whole body to be vital and alive. In the GI tract, ATP plays a key role in signaling timely, proper and complete digestion of food, in part by regulating gastric acid (HCl) and pepsin secretion (a protein-digesting enzyme). It is also vital in the absorption of nutrients through the cell wall.
ATP allows us to get the most benefit from the foods we eat. The average raw meal, such as a tossed salad, contains 300,000,000 LCUs of ATP.  Because our cells manufacture ATP from nutrients in the foods we consume, we reduce the demand when ATP is naturally present in a raw meal. When the balance of cellular energy is compromised, it leads to less efficient absorption and utilization of nutrients. This in turn contributes to less energy output from cells, and even lower levels of digestive enzymes.
A combination of aging, exercise, and eating cooked and processed foods can significantly increase the demand to produce large amounts of ATP, thus making it difficult for the body to keep up. As a consequence, even those living a relatively healthy lifestyle may be challenged with a constant state of energy deficiency. A digestive supplement providing ATP and enhancing ATP production may help offset such a deficiency.*
Combining a full spectrum of digestive enzymes with ATPro™, Digest Gold offers unsurpassed digestive support—the most potent digestive enzyme formula on the market.
A good choice for people who are lipase deficient (see "The Enzyme Deficiency Test"). Digest Gold ATPro contains 4000 FCCFIP (active units) of the enzyme lipase per capsule.