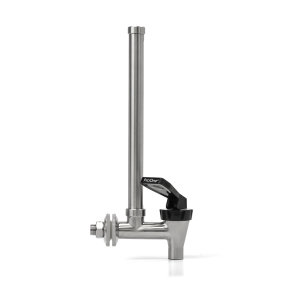 ProOne 7.5 Inch Sight Glass Spigot Stainless Steel
Save

0

%
Save

0

%
Original price
$140.00
-
Original price
$140.00
An accessory that adds style as well as function is certainly worth celebrating. Fitting the bill is ProOne's sleek, stylish Sight Glass Spigot. Replacing the stainless steel spigot, the high-quality sight glass spigot allows an instant reading of the water level, so you know for sure when it's time to add more to the tank.
Most gravity filters require lifting the upper chamber to see how much water is left in the lower chamber. But a quick glance at the Sight Glass Spigot is all you need to determine the accurate water level in your ProOne stainless steel units, including the Traveler+ or ProOne Big+ water filters. 
The ProOne Sight Glass Spigot also fits most competitive brands of gravity water filter systems including Alexapure, AquaCera, Doulton, and Patriot Pure. Additionally, it works with Berkey® water filter systems, including the Travel Berkey®, the Big Berkey® and Imperial Berkey® water filter.
This beautiful spigot with sight glass features a food grade 2-position plastic handle with a 7.5" sight glass stem. When it's time to clean your gravity filter system, simply remove the view spigot, rinse the glass tube with soap and water, and allow it to air dry.
Take your home water filtration system to the next level of convenience with a ProOne Sight Glass Spigot!