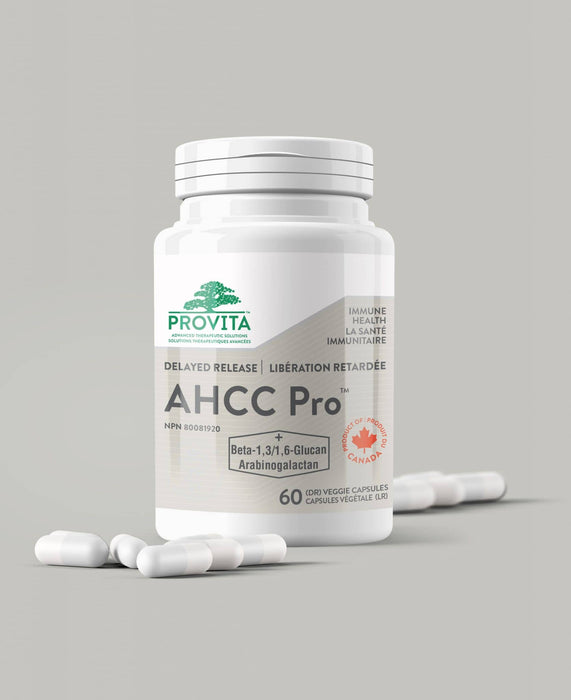 Provita - AHCC Pro 60 capsules
Save

0

%
Save %
Original price
$61.00
-
Original price
$61.00
AHCC* (Active Hexose Correlated Compound) is a special extract from Shiitake mushroom (Lentinula edodes), which is well known as a powerful antioxidant that aggressively combats free radicals and modulates the immune system.
AHCC Pro is a unique synergistic blend of:
500 mg

 – A

ctive 

H

exose 

C

orrelated 

C

ompound (~ 50% alpha-1,4-Glucan)

150mg

 – beta-1,3/1,6-Glucan

 extracted from the cell wall of 

Saccharomyces cerevisiae

. 

Studies showed that combining this particular beta-Glucan with alpha-1,4-Glucan (AHCC) creates a more complete and powerful formulation.

50mg

 – Arabinogalactan 

is a polysaccharide derived from the wood of the larch tree (

Larix

 sp.). It was discovered recently that it does exhibit immune-stimulating properties in addition to decreasing susceptibility to opportunistic pathogens.
The ingredients are encapsulated in a delayed release vegan capsule to minimize the impact of stomach acids and increase absorption.
*AHCC is a registered trade mark of Amino Up Chemical Co. Japan.
Did you know
AHCC has been shown to prevent hair loss due to chemotherapy. Animal-model tests along with numerous physician and patient reports have been very convincing.
What is in it
Medicinal Ingredients
Each Delayed Release (DR) vegetarian capsule contains:
AHCC (Active Hexose Correlated Compound)500 mg
Beta-1,3 / 1,6-Glucan150 mg
Arabinogalactan (D-Galacto-L-arabinan)50mg
*AHCC is a trademark of Amino Up Co., Japan.  
Non Medicinal Ingredients
Microcrystalline cellulose, vegetable stearate.  
Delayed release vegetarian capsule: hypromellose, gellan gum.  
Does not contain
Dairy, egg, gluten, soy, wheat, corn, yeast, nuts, artificial sweeteners, preservatives, colours or flavors
Who can benefit?
Being a powerful antioxidant, AHCC Pro™ is an excellent immune booster.
Do not take higher dosage without first consulting a doctor or naturopath specialist