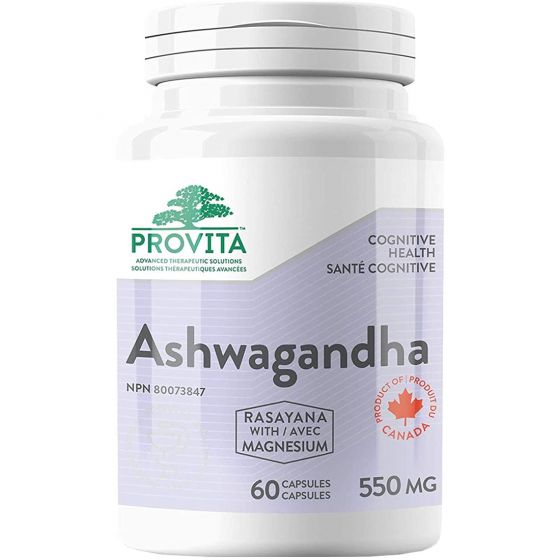 Provita Ashwagandha 60 caps
Save

0

%
Save %
Original price
$22.00
-
Original price
$22.00
Provita's synergistic blend of Ashwagandha herb and magnesium will help with alleviating stress, anxiety, insomnia, fatigue in our everyday life.
Used since ancient times, Ashwagandha is also referred to as "Indian ginseng" because of its rejuvenating properties. The herb has shown incredible results for lowering cortisol and balancing thyroid hormones. More recent scientific studies support Ashwagandha's ability to also to protect brain cells against the deleterious effects of our modern lifestyles.
Benefits include: alleviating stress, anxiety, insomnia, fatigue, lack of energy and concentration and memory problems associated with old age or while in convalescence.
Used as a Rasayana (rejuvenative tonic), placebo-controlled studies on humans have found the remedy to be effective for a number of health-related uses, including anxiety, neuroprotection, long-term memory, anaerobic running endurance, and body self- regulation of cortisol (induced by stress), and C-reactive protein ( a sign of inflammation). Benefits were seen in healthy as well as non-healthy patients.
Provita Ashwagandha Benefits
Traditionally used in Ayurveda as Rasayana (rejuvenative tonic)
Traditionally used in Ayurveda as a sleep aid
Traditionally used in Ayurveda for memory enhancement
Traditionally used in Ayurveda to balance aggravated Vata (nervine tonic, sedative)
Traditionally used in Ayurveda to relieve general debility, especially during convalescence or old age