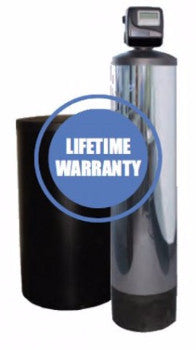 Excalibur Chlorasoft - Water Softener PLUS Chlorine Removal - Product Available CONTACT US FOR PRICING!
Save

0

%
Save %
Original price
$0.00
-
Original price
$0.00
Chlor-A-Soft Water Softeners

A combination system that provides water softening, chlorine and chemical removal. Removes clear water iron and softens your water. Simple program set up, then relax. Just add water softening salt!
Two sizes are available; 30K and 40K.
Features and Specifications:
Softens water, removes iron and eliminates odour
Removes chlorine and volatile organic chemicals
Simple fully programmable electronic water softener that doesn't waste any water
Self-diagnostic service features
Best efficiency water softener that uses 80% less salt than traditional water softeners
Latest modern design uses as little as 2.5lbs of water softening salt and 17 gallons of water per regeneration
Computerized design to measure exact water usage
Compact one-piece cabinet/twin tank design
Uses 80% less salt than traditional water softeners
Power outage protective cell
Lifetime warranty
12 Volt AC uses less than $3/yr in electricity
Bypass valve